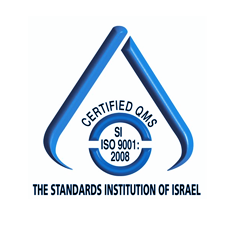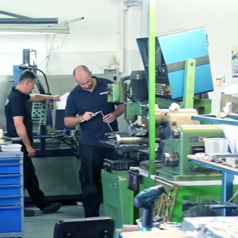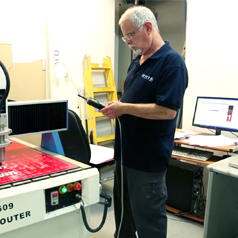 About Lederman LTD
Lederman LTD was founded as a small workshop in 1956 by Mordechai Lederman, a master engraver.
Mordechai was later joined by his two sons Chaim and Yoav, and throughout the years the workshop had continuously expanded. Lederman LTD nowadays employs 15 qualified workers, and had accumulated vast experience in numerous fields over the years.
It currently owns the following machinery:
Varied of CNC machines including 4th axis

CO2 laser machines for etching, cutting and marking

YAG laser machines for metal marking

Manual pantograph machines
We are fully computerized, and work with the latest CAD software while supporting older formats. We have experience with AutoCad, SolidWorks, Simatron, and can deal with most other formats.
We deal in signs and other industrial production:
Manufacturing of Brass and Steel marking systems for the food, plastic and metal industries.

Steel stamps (such as for postal services).

Copper and Graphite Electrodes for moulds.

Scales and panels conforming to avionic standards (utilizing a 4th axis CNC) both by laser marking and CNC cutting.

Laser cutting and marking of Perspex and other plastic material.

Laser digitizing and modeling of 3D surfaces.
Lederman LTD has been a certified supplier of the largest Industrial and Government corporations in Israel, and exports to leading companies overseas both as a subcontractor and directly. Our services conform to the strictest standards of the Israeli Military Industry.
Some of our clients include:
Rafael, The Armament development Authority.

Israel Electric Power Corp.

Bezeq, Israel National Telecommunication Corp.

Technion, Israel Institute of Technology.

Israeli Postal Service, Ministry of Defense, and various Municipal Authorities.

IMI – Israel Military Industries.

The Israeli Army, Navy, and Air Force.
Please free to contact us at sales@lederman.co.il